Wowza. Season 7 of Game of Thrones hasn't disappointed. In just four episodes, we've seen Daenerys touchdown in Westeros, Euron Greyjoy prove himself a villain worthy of Joffrey and Ramsay, the meeting of two of the show's greatest players, and – most recently – an epic battle unlike any we've seen before. The great game is truly being played.
And there's still three instalments to go – all of which have airtimes longer than Thrones' average episodes at 59, 71 and 81 (!) minutes respectively. But what's still to see in Westeros? As the pace ramps up another notch, let's cast some speculation over what could happen before Game of Thrones' penultimate season draws to a close…
More Jon & Daenerys
When Daenerys (Emilia Clarke) flew off to battle in 'The Spoils of War', you could be forgiven for thinking her on-screen sparring with the King in the North Jon Snow (Kit Harington) was at an end. Thankfully, that's not the case – with travel times dramatically reduced in Westeros (remember the days when Arya spent three seasons wandering the Riverlands?), Dany will be back at Dragonstone for the very next episode if the trailer for Episode 5 is accurate.
Despite Jon's constant refusal to bend the knee to Daenerys, the ice between him and the fiery queen is quickly thawing. Thrones' fans surely rejoiced when Davos (Liam Cunningham) noted an attraction between these two, long speculated to be the romance at the heart of this show's song. If their pride doesn't get in the way, they are in dire need of each other – Daenerys' malevolent side is threatening to rear its ugly head, while the White Walker threat has never been more worrisome after Bran's recent vision. Which brings us onto…
The White Walkers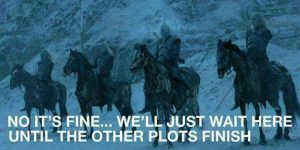 Striking a chord with fans, this humorous meme speaks volumes about Dan Benioff and D.B. Weiss' decision to keep the White Walkers at bay for the time being. We all know who the big bads of Game of Thrones are – Jon's said it enough times – but they've taken a back seat as the conflict between Daenerys and Cersei (Lena Headey) ramps up. But there's no escaping that Winter is Here and the Walkers are on the march. It seems likely the Wall will fall at the climax of Season 7, allowing for a final standoff as we reach the last set of Thrones episodes; just the thought of it makes you shiver.
The revelation of next week's episode title hints they'll be appearing sooner rather than later too. 'Eastwatch' is a clear reference to Eastwatch-by-the-Sea, the Wall's most Eastern castle and a likely location for the first big Walker battle since Season 5's 'Hardhome'. It's currently guarded by Tormund (Kristofer Hivju), with the Hound (Rory McCann) also journeying there after his premonition in the season opener. Snippets from Season 7's trailers show Jon duelling the Night King as well, so could he return to the Wall in time for next week's episode? As I say, travel times in Westeros have dramatically reduced, so probably.
More Death
For Game of Thrones, Season 7 has been surprisingly light on deaths thus far. The only main character to meet their end is Ellaria Sand (Indira Varma) and even that happened – or technically 'is happening' – off-screen. A few recurring characters have kicked the bucket, most notably Olenna Tyrell (Diana Rigg), but the lack of casualty from last week's cataclysmic battle felt a little lacklustre. In the final moments of 'The Spoils of War' it seemed inevitable that either Dany or Jaime (Nikolaj Coster Waldau) was about to meet a shocking end, but thanks to the heroics of Bronn (Jerome Flynn) – another apparently indestructible character – everyone escaped remarkably unscathed. Though it's a relief that both fan favourites live to fight another day, it all seems very un-Thrones.
But there surely are some shocking demises on the horizon. The lingering look between Arya (Maisie Williams) and Littlefinger (Aidan Gillen) suggests another a name could be for adding to the Stark girl's infamous Kill List, while Tormund, the Hound and even Ser Davos seem potential casualties for the battle at Eastwatch. For our musings on who could kick the bucket in Season 7, check out our very own Kill List – which features a very surprising name at the end…
Gendry!
With all the reunions occurring in Westeros right now, it's easy to forget one big name confirmed for Season 7 – Gendry! The bastard son of King Robert was famously last seen rowing for King's Landing from Dragonstone in Season 3. Whether he got there is unknown; while it might not be the safest place as Cersei was previously intent on murdering all Robert's bastards, she's had bigger things to worry about recently. Joe Dempsie's return to the saga was confirmed after he was snapped filming in Northern Ireland last year, but just where will he appear? Perhaps with Melisandre (Carice Van Houten) on her final return to Westeros? A surprise nemesis for Cersei within the capital itself? Or perhaps fighting alongside Jon at the Wall?
Of course there's no guarantee he won't be reintroduced just to be brutally killed off, like Natalia Tena's Wilding Osha last season, but we hope Gendry's back to serve some purpose; perhaps even to reunite with his former friend Arya.
Game of Thrones continues with 'Eastwatch' next Sunday at 2am on Sky Atlantic. Check out the trailer below: