I've said it before and I'll say it again: the Thursday evening scramble to compile this column is one of my favourite parts of the week. However, it can get quite difficult to keep track of things whilst out, about, and generally being busy. Take last night for example: whilst enjoying the parade of campaign shenanigans that was karaoke in The Stag's last night, I realised that midnight had passed and I needed to go a bit crazy in scrolling through playlists to find all things new. "Don't tell me you're going to do it now," said one Edge contributor. Naturally, I then waved one particular source of magic in their face and started actually jumping up and down at the concept of one of the releases that is featured here today. If you'd like to get ahead of this weekly scramble and see yourself or your artists here, send something fun to records@theedgesusu.co.uk. Music is great.
Ed Sheeran – ÷
Today's is the eighth This Week In Records since Ed Sheeran arrived for a new album cycle with quite a bit of a splash, and today will also happen to be the eighth with 'Shape Of You' sitting at the top of the UK charts. Considering the mid-February release of 'How Would You Feel (Paean)' could slot in right behind it despite not actually being a single, it'd be preposterous to expect much other than Sheeran in the top 20 by this time next week. My pick for the next spot of world domination? 'Dive,' which sounds instrumentally like a long-lost soul song and comes nestled at track three right between the brace of lead singles.
LANY – 'Good Girls'
Last night, this appeared: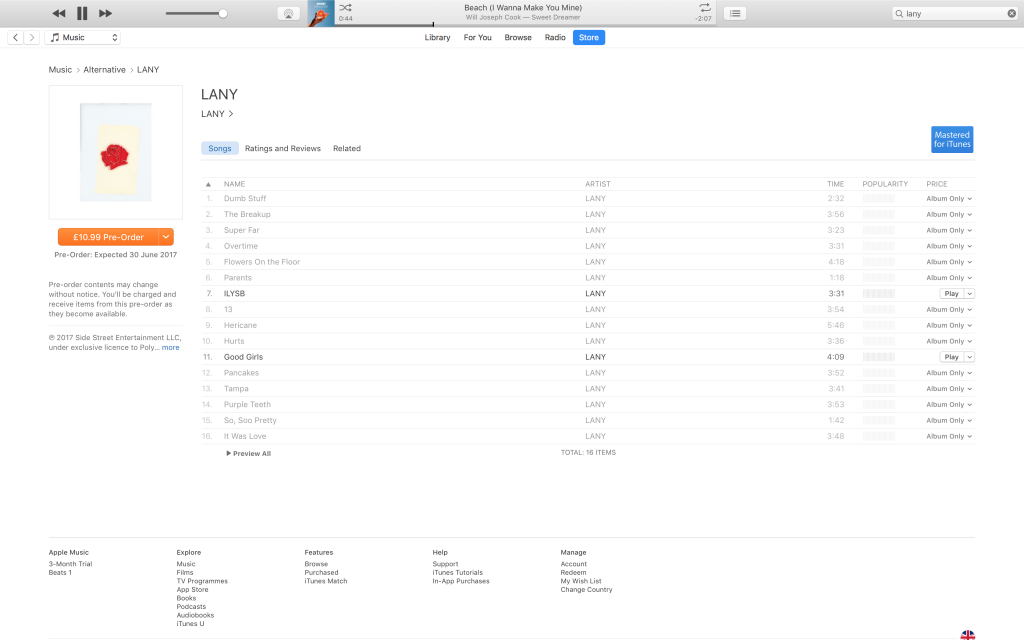 Seven seconds later: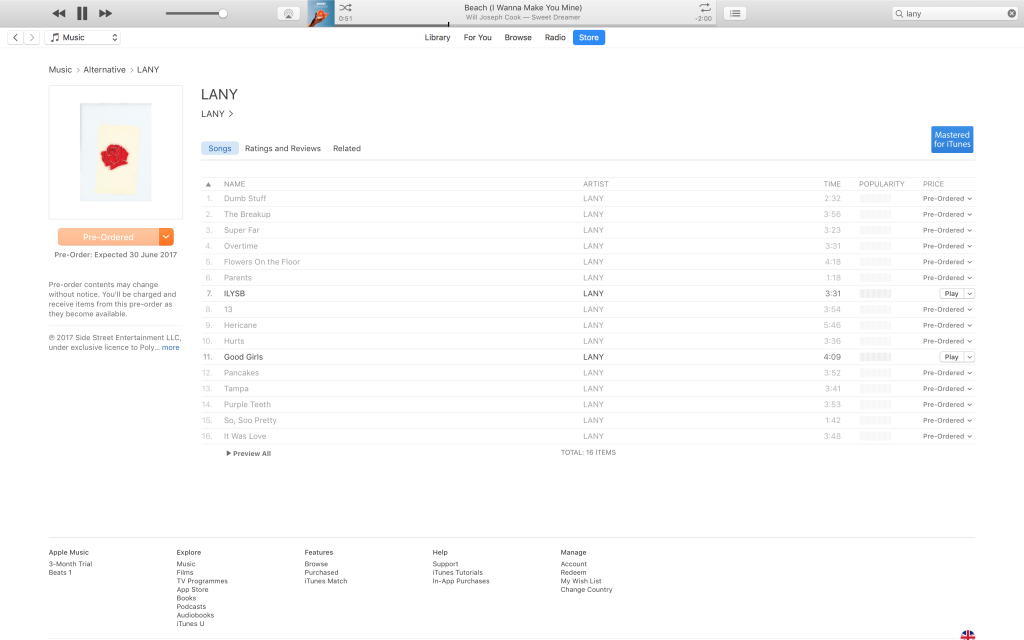 LANY is a thing I am greatly looking forward to, and 'Good Girls' is a verbose, insatiably insane example of why. For more, check out my words on the band's last London show before I likely reiterate the same sentiments after Wednesday night at KOKO.
Khalid – American Teen
Think back a few weeks and you may remember a Digital Farm Animals track called 'Digital Love' which nabbed the concepts of swiping and tapping – as often used by the youth today to display affections – for one of the most irritating starts to a musical month there has ever been. Khalid, on the other hand, stays grounded and subtle in his millennially-focused love songs. Emerging last year from Texas with the blissful 'Location,' you'll find a scattering of mentions of subtweets, Uber rides, and phone…things all brought together with a divine R&B vocal across charismatic, bubbly beats.
Sälen – 'Pretty, Fake'
Last time Sälen put out a track, Alex Smith and I screamed excitedly at each other over Facebook Messenger before sitting in a pub and collaboratively reviewing 'Heartbreak Diet.' Because the trio is the gift that keeps on giving, barely a day after dropping its bloody video there's another new song on the internet, including the line "loose lips suck dicks." A lot.
Here's an unedited copy of our brief conversation on 'Pretty, Fake.'
Xavier: NEW SÄLEN SONG ON SPOTIFY AND THE INTERNET
Alex: Wwwwhhhhhhaaaaaattttt!
X: there's no way this is ever going on radio I LOVE IT
A: I actually love this
A: It's actually so different it's amazing
A: I want to cry!
A: They do have to chuck out an album soon!
A: *do
X: these are good words
X: please may i use them in This Week In Records in lieu of writing things myself because it's 2:48?
(Update: He agreed at 10:53.)
deadmau5 – stuff i used to do
Here's a complete list of titles of proper deadmau5 albums.
Get Scraped
Vexillology
Random Album Title
For Lack Of A Better Name
4×4=12
> album title goes here <
while(1<2)
W:/2016ALBUM/
It's quite easy to pinpoint the second he stopped actually caring, however his release strategies are quite enjoyable:
here. have an album/ https://t.co/kZGWzaa036

— dead mow cinco (@deadmau5) February 24, 2017
here have a link that works. https://t.co/5ACwjPzC2c

— dead mow cinco (@deadmau5) February 24, 2017
its stuff i used to do. old stuff i never put out from 1998 to 2001 ish. https://t.co/Vu9YMO9ClX

— dead mow cinco (@deadmau5) February 24, 2017
you're whalecum.

— dead mow cinco (@deadmau5) February 24, 2017
deadmau5 tweets are my favourite content.
Little Mix feat. Machine Gun Kelly – 'No More Sad Songs'
Little Mix feat. Kid Ink – 'Touch'
Nope.
Selected Other Releases
Albums
Alison Krauss – Windy City
Amtrac – 1987 EP
Cadenza – Hijack EP
Collabro – Home
Grandaddy – Last Place
Holly Macve – Golden Eagle
Lido – Everything Remixed
Methyl Ethel – Everything Is Forgotten
Sleaford Mods – English Tapas
Temples – Volcano
Tokio Hotel – Dream Machine
Singles
Abi Ocia – 'Konfyt'
Alice Jemima – 'When You Dance'
Arty feat. Maty Noyes – 'Falling Down'
Ben Pearce feat. Elias – 'Crescent (Running)'
Cash Cash & ROZES – 'Matches'
Circa Waves – 'Stuck'
Clean Cut Kid – 'Leaving You Behind'
Coldplay – 'Hypnotised'
Dan Black – 'Headphones'
Day Wave – 'Untitled'
Deorro – 'Rise And Shine'
Diet Cig – 'Barf Day'
Fatboy Slim – 'Where U Iz'
Gryffin & Illenium feat. Daya – 'Feel Good'
HMLTD – 'To The Door'
J Hus – 'Did You See'
James Blunt – 'Make Me Better'
Jennifer Hudson – 'Remember Me'
Kojo Funds – 'Warning'
Lane 8 & Kidnap Kid – 'Aba'
Laura Marling – 'Nothing, Not Nearly'
Lil Uzi Vert, Quavo & Travi$ Scott – 'Go Off'
Lorde – 'Green Light'
Louis The Child feat. Blaise Railey – 'Phone Died'
Lucy Rose feat. The Staves – 'Floral Dresses'
Mike Perry & Hot Shade – 'Talk About It'
Mikey Mike – 'Doin' Me'
Offaiah – 'Run'
Riton feat. Kah-Lo, Mr Eazi & DaVido – 'Money'
salute feat. Cid Rim – 'Man Down'
Skepta – 'No Security'
Vök – 'Show Me'
Wayward – 'Orissa'
Weslee – 'Gassed'
Wizkid – 'Sweet Love'
This Week In Records: Playlist Edition
Follow our shiny Spotify playlist and all this musical newness will be right there in time for breakfast every Friday morning.