Any mistakes the festival had made over the previous days were forgotten. Sunday was truly the most spectacular of all our days at Seaclose Park. From the Red Arrows' spectacular aeronautical display, to the gigantic firework display by the festival itself, it truly was a day to remember, and the music itself wasn't so bad!
By this point, temperatures had cooled on the island, with a heavy cloud coverage and the feeling of imminent rain (that never actually arrived) which allowed us a lie-in. Eager to get as much out of the day as possible, we headed down to the Big Top stage in order to catch Deap Vally's set. Before they came on it was the turn of Toronto band July Talk. Although I had never previously heard of the group, I was pleasantly surprised by how enjoyable their set was. With two completely contrasting sets of vocals, lead singers Peter Dreimanis and Leah Fay kept things effortlessly upbeat, even allowing a slightly bewildered audience member up on stage for a song and dance. Definitely a band to watch out for, combining a rock and country music for an interesting, yet strangely pleasing, sound.
Deap Vally were up next. Having been to their Reading Festival set just last year I had high hopes for the band's performance. Their style is unquestionable, and as a two-person all female band they can certainly make a lot of noise. However, it was the unnerving repetitiveness of all their discography, and Lindsey Troy's vocals, that eventually drove us out of the tent towards a cheesy chip van, where prices were drastically reduced from £4 to a mere £3.50. Bargain.
After many months of hearing the same song on repeat on every single radio station I turned to, seeing Passenger was not at the top of my festival preferences. However, his set was among one of my favourites of the festival, and I wish I had joined the crowd sooner than I did. With thoughtful and insightful lyrics, talented guitar skills, and the ability to connect with each and every member of the crowd was uncanny, and absolutely marvelous to watch. The sheer simplicity of his set was delightful to watch, a breath of fresh air from many other mainstream artists live performances. Dishing out advice, comedy, and inspirational messages, it is clear why he, both as an individual and a musician, is so popular.
Examining my programme after his performance left me puzzled. With a 50 minute wait for Fall Out Boy, I wondered why Pete Wentz needed so long to gel his hair, or why Patrick Stump had left it to the last minute to decide what hat he was going to wear. Suddenly music started blaring out the speakers, and many members of the audience cheered. Confused as to what all the fuss was about, I looked up. There above were the Red Arrows, in full flight formation. They danced gracefully across the sky for around 20 minutes, with each display leaving me awe-struck. With classic songs, including ev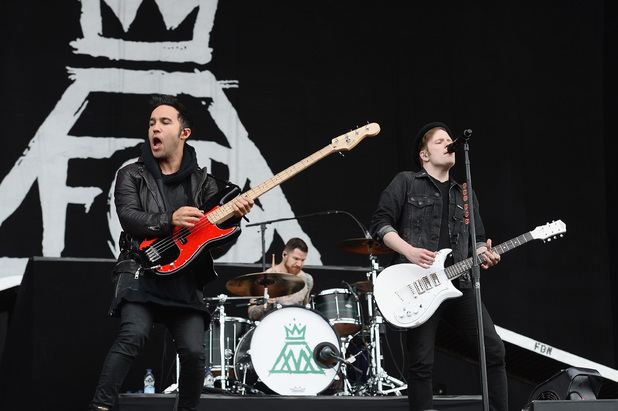 eryone's favourite Queen, playing in the background, and many of the slightly more intoxicated members of the audience singing and dancing along, it was as odd as it was memorable.
After this truly wondrous display came Fall Out Boy. Well known for their shoddy live performances, I wasn't expecting much from the set. Perhaps this affected my judgement, but their set was enjoyable, in time, and even in tune. As teenage favourites of mine, their set was the correct mix between their new music and their, in my opinion, much better classic songs. I was soon singing along to every single song, my knowledge of the lyrics had lived from those teenage years, which feel like so long ago. My only negative of the set was Pete Wentz' slightly odd attitude, but after performing at Download I suppose the lack of mosh pits must have been confusing for them.
As soon as Fall Out Boy were done with their emo rock I ran over to the Big Top stage, and I mean ran. As one of my current favourite bands, I didn't want to miss a moment of Peace's performance. They did not disappoint. After travelling all the way to Falmouth to see them just a few days before, my enthusiasm for their set might leave my review slightly bias. The band exude effortless cool, with both their new and old music summing up the direction I hope more bands decide to go in. They crammed all their best tracks into their set, even performing three new songs; 'Money', 'World Pleasure', and 'Lost On Me'. The funk fuelled indie band performed perfectly, with Harry Koisser even advertising their latest single 'Money' on the back of his white leather jacket.
We wrestled our way to the front of the crowd, meeting up with our camp, just in time for Kings Of Leon's appearance onstage. The set was confident, laid back and the band seemed highly content with the crowd's reactions. The band played a grand total of 23 songs, spanning throughout their six album discography. Regardless of their recent albums and highly popular singles, the two songs that got the crowd most enthusiastic were the classic, if slightly overplayed, 'Use Somebody' and 'Sex On Fire'. As one of the most enjoyable sets of the weekend, it's really no wonder that the quartet are so popular, with each word Caleb drawled to the crowd receiving wild cheers from the female members of the audience. (Click here for a full review)
Following their performance, the sky lit up with hundreds of fireworks. Whether planned or there was merely an accident at a local firework factory was unknown, and no one really cared. Caught up in the euphoria of having witnessed Kings of Leon live onstage, having large quantities of alcohol circulating their body, and the weekend having drawn to a close, it really was the perfect ending to what had been a thoroughly enjoyable weekend.
Overall, I could fault this festival repeatedly, but other representative's of The Edge would most probably love to attend next year. An enjoyable festival that hasn't quite reached its full potential yet, lacking the sheer ridiculous quantity of musicians that festivals like Glastonbury and Reading & Leeds possess, and an unsure target audience. In an attempt to cater to every age group, the weekend stretches itself too thin, and when you get bored there is little to do except walk 30 minutes back to your camp, or pay the extortionate prices on the funfair rides. The headliners were perfect, but the only real talking piece of the festival.