Anyone that knows me personally would never be surprised that my first review is one starring the middle-aged heartthrob, Robert Downey Jr. Usually I'd be the one to fanboy over 95% of his scripted lines, the other 5% being anything that came out of the film The Shaggy Dog, but upon first hearing about his top billing in The Judge, I knew that this was going to be very different, compared to the egotistical, sarcastic eccentric that we so know and love. No, The Judge does not have the makings of biggest summer Hollywood Blockbuster, there are no giant robot dinosaurs, talking trees or Daniel Radcliffe desperately trying to re-define his career. But I assure you all that The Judge is the hidden gem of 2014!
Clocking in at almost two and a half hours, The Judge is no simplistic courtroom drama, it tells a very personal story of identity, family and how much of a mess life can truly be. Hot-shot lawyer Hank Palmer (Downey Jr.) returns to his small country town home to attend his Mother's funeral and he begins to struggle to understand his relationship to his father and two brothers. The parallels between Hank and the stern yet moralistic Judge Joseph Palmer (Robert Duvall) start to cause eruptions, but Hank soon finds out that he'll be using his revered skills at court to clear his Father's name of a charge that may ruin his legacy.
Without revealing too much detail, the narrative will take you on an emotionally charged journey, very similar to last years August: Osage County, you'll be laughing and you'll be crying. Some might say that the tone and pacing that director David Dobkin decided to take was a little unstructured, and made the film ten times more depressing than it should have been, I say otherwise. Dobkin did a fantastic job at giving the correct exposition to each of the characters, the family's history and even adding a touch of mystery.
Although this film could never have been as artistically effective without the phenomenal performances from its main cast and even some of the more minor characters, Robert Downey Jr. of course stealing the show, it's evident that he's certainly matured into one of the greatest actors of this era, providing one of the two performances that I could easily see working it's way into the Oscars next year.  If you're reading this and thinking that you'll be walking into a screening to find another rendition of Tony Stark or Sherlock Holmes, I'm afraid you'll be disappointed. Yes, he does maintain some of his loveable characteristics, but Hank Palmer is a figure that a lot of us can relate to, a man who is still in search of who he really is.
Flip the coin and we find Robert Duvall who also delivered an incredible performance as The Judge himself. The chemistry between Duvall and Downey Jr is beyond captivating and really drives this film into your heart, in the same way that Streep and Roberts mesmerised audiences in Osage County. Again, a performance worthy of a nomination at next years Oscars, whether the Hollywood Foreign Press will overlook the 'breathtaking performances' of Jennifer Lawrence and Matthew McConaughey? I doubt.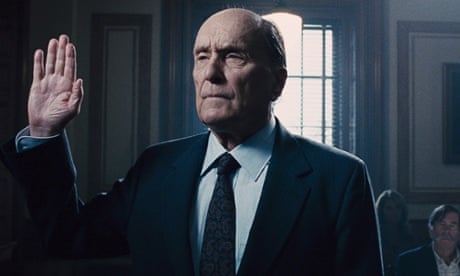 Despite being overshadowed by the two leading actors, there's nothing that can be taken away from the supporting roles. Billy Bob Thornton in particular is having an incredible on-screen year, stunning us in both this and Fargo. Jeremy Strong also, adds an element of sweetness amongst the tension. This film really stunned me with its range of brilliant performances and all should certainly be commended.
There are drawbacks, but I'm willing to overlook the slightly awkward comedy and respect Dobkin for giving us a work of art that he obviously cared for dearly. I can easily say that this has been the best film released since Apes, it was entertaining and tugged on some heart strings, which in my eyes makes a masterpiece.