If you ask any of my friends and family, they will tell you how unbearable I am on the day of the Academy Awards. I love the celebration of cinema and stay up until 5am every year to watch the star-studded ceremony. I struggled to stay awake during my lectures on Monday, but it was absolutely worth it. I was thrilled as Billy Crystal returned as host after Franco and Hathaway's cringe worthy attempt last year. Despite numerous critics slating his hosting as tedious, I believe that he was the perfect Oscar host as he brought magic back to the ceremony with his warm personality and fun sketches. He's like that cosy jumper that you just don't want to part with. I particularly enjoyed his skit at the beginning which saw Crystal leap into many of 2011's best movies and even sharing a kiss with George Clooney.
I have to confess that Meryl Streep is my favourite actress and so I was overjoyed to witness her winning her third Academy Award after twenty nine exhausting years and seventeen nominations. Her golden Lavin dress foreshadowed her achievement as it closely resembled the Oscar statuette. Whilst many of my friends idolise artificial reality stars, my role model had always been Streep with her illustrious career and perfect thirty four year marriage. Streep has played so many strong women and has really forged the way for generations of actresses in a difficult industry. She even managed to bring humanity to a politician condemned by many.
During the race for Best Actor, I struggled to choose my favourite between Clooney and Jean Dujardin. I eventually settled on Dujardin for his unforgettably charming performance in The Artist. I was glad that he won despite Clooney delivering as solid performance in The Descendants. I was moved by his clear appreciation for the award and his moving thank you to his wife. I also loved how he talked about Douglas Fairbanks being the original Oscar host, thereby paying tribute to a star that clearly influenced his winning role. It was also amusing how his translator had to apologise for Dujardin's dropping of the French F-bomb during his acceptance speech, especially after Melissa Leo's same mistake the previous year.
I was thrilled to see The Artist win best picture and Michel Hazanavicius win best director for the picture. I fell for The Artist when I first saw it. The Academy indulged in nostalgia as is rewarded the cinematic love letter to the tragically forgotten stars of silent cinema. When I first heard that a silent movie was being made, I have to admit that I had doubts as to its success. Hazanavicius deserved the Oscar for successfully reviving a long neglected filmic style and making it so accessible for a modern audience. I also loved Hugo which also sought to teach audiences of the origins of cinema but it did not equal the tremendous celebration of the medium as The Artist did. The Artist is a real cinematic treasure and if you have not yet seen it, I would strongly urge you to do so.
The presenters also shone exceptionally bright on Oscar night. Rose Byrne and Melissa McCarthy were hilarious as they downed a bottle of vodka on stage in a comical tribute to Scorsese. Robert Downey Jr. and Gwyneth Paltrow stood out though as Downey entered the stage with two camera men in tow to capture his mock documentary 'The Presenter' (an obvious nod to The Artist) much to Paltrow's distress. Downey cheekily recruited the charming narcissism of Tony Stark as he openly mocked the self-indulgence of his celebrated audience.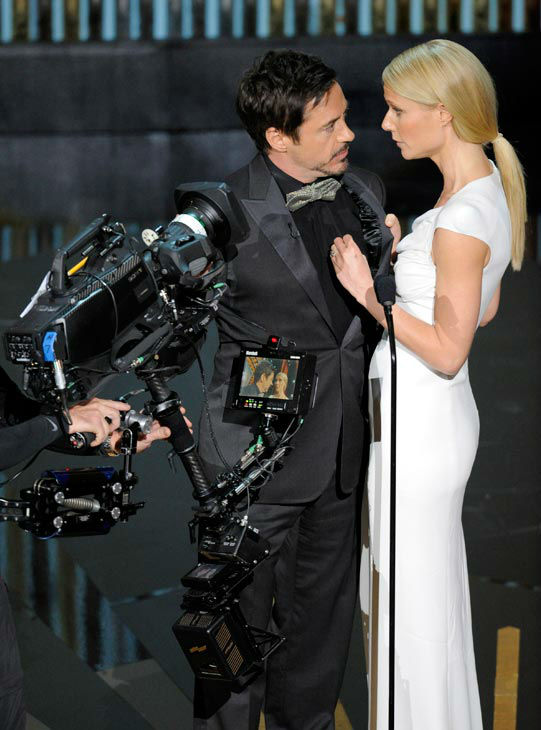 The red carpet is an undeniable highlight of the Oscars as acclaimed designers showcased their beautiful creations on Hollywood's finest. Camera Diaz shone in her stunning nude Gucci mermaid style gown as she epitomised Hollywood glamour. However, Clooney's female wrestler girlfriend stole the show with her Oscar statuette inspired metallic Marchesa gown, thereby making the couple obvious contenders to steal Brad and Angie's status as King and Queen of Hollywood. Angelina Jolie's leg hilariously trended on Twitter thanks to her daring structured black dress. Her awkward pose was comically mocked by the screenwriters of the Descendants after she presented them with their awards.
The 84th Academy Awards may not have produced any major surprises but the event captured the magic of Hollywood. 2011 was a remarkable year for cinema and I for one cannot wait to see what the rest of 2012 has to bring.